The Ignite Team 
Who we are
The Ignite Team is the Youth Mission Team for the Roman Catholic Diocese of East Anglia and was established in 2014.
Ignite is made up of volunteers aged between 18 and 30 who give a year of their lives to serve Jesus in the Church by evangelising young people who live within the boundaries of our diocese.  The team is available to work with parishes and schools in Norfolk, Suffolk, Cambridgeshire & Peterborough, seeking to give them an authentic encounter with Christ and the teachings of his Catholic Church.
The team live together as a community for the year, ministering to young people and others they meet throughout the Diocese.
This year the Ignite Team is made up of two people, joined in their work from time to time by the Director of Youth Services, Hamish MacQueen, and by their Chaplain, Fr. Luke Goymour.
What we do
The Ignite Team travels around the Diocese supporting parishes in their ministry to young people by running retreats, 
catechetical sessions, youth Masses and other events for children and young people to encourage them in their faith. This includes visits to youth groups, Confirmation groups and First Holy Communion classes.
We also visit schools, both primary and secondary, whether they have a faith-based ethos or not, and run retreats, assemblies, RE Classes and school missions.  All of these are designed to explore areas of the Catholic faith in a vibrant and informed way, using interactive presentations, music and personal testimony. All members of the team are practising Catholics with a passion for discussing their faith with others.
In addition, the Ignite Team supports the Director of Youth Services in the running of events on a Diocesan level, such as the Ignite Festival and the Epiphany Mass.
Join the Team
Applications are open for those who wish to join the Ignite Team for 2020-2021. Please contact igniteteam@rcdea.org.uk to request an application form.
Ignite Lite
Ignite Lite was set up in 2016. It is for those aged 16 – 35 who want to be involved in youth ministry within the Diocese of East Anglia but are unable to be full-time members of the Ignite Team due to work commitments, school, university etc.  The Ignite Lite group meets up multiple times a year for training weekends with the Ignite Team, receiving teaching and training in youth ministry as well as growing together as a team. To find out more click here.
Ignite Prayer
This prayer was composed by the Ignite Team to be said around the Diocese to ask God's blessing on our children & young people, as well as the Ignite Team in their work of evangelisation.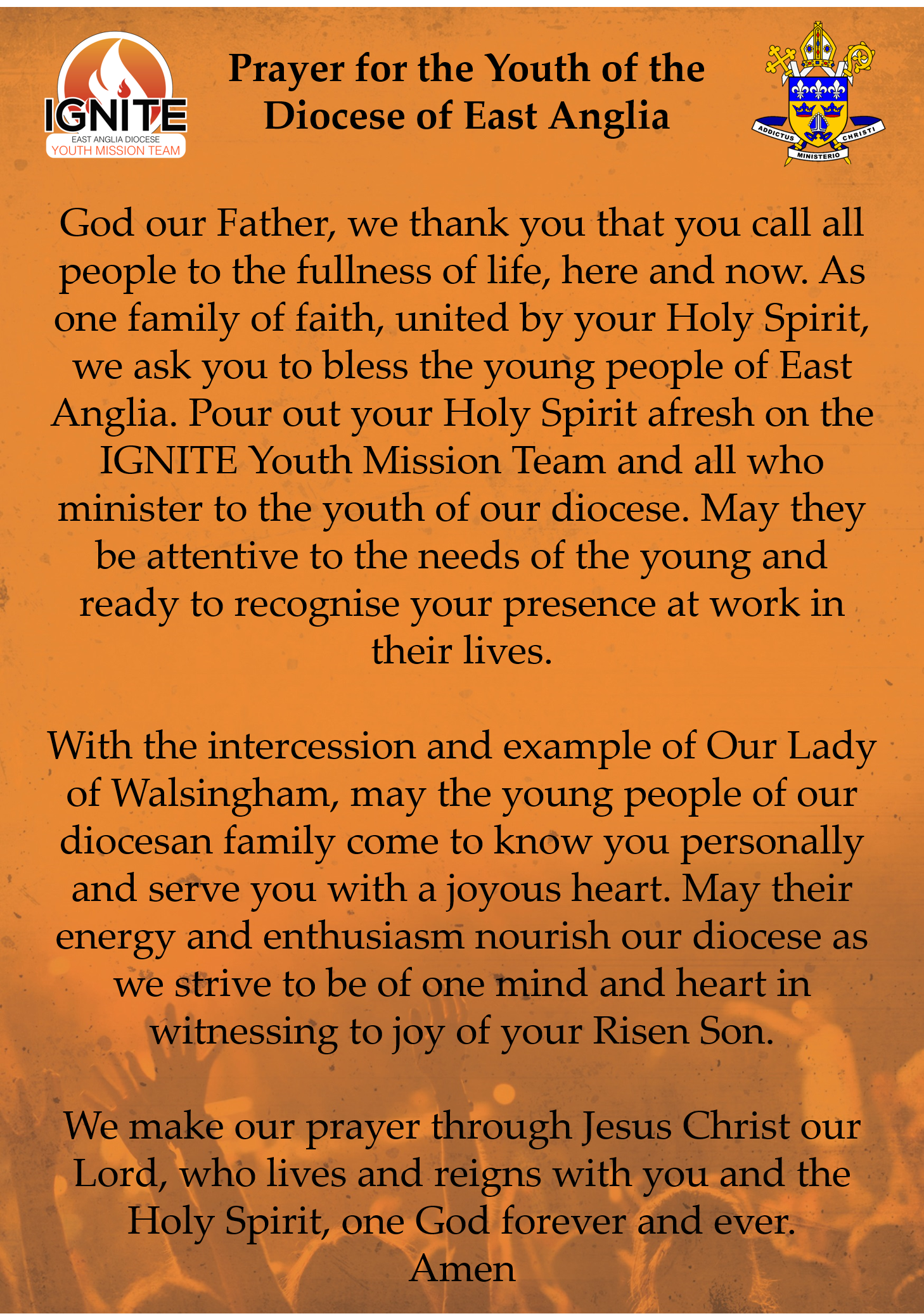 If you would like us to send you some of these prayer cards free of charge please email: igniteteam@rcdea.org.uk.
For more information about ways you can pray for young people and the work of the Ignite Team, including the Ignite Prayer Network, click here.
To subscribe to our mailing list to receive updates about our latest events and initiatives please click here.
Contact Us
If you would like to book the Ignite Team, or find out more about us, email Team Leader Ciaran Losasso at igniteteam@rcdea.org.uk