Praying for Young People in our Diocese

No matter how young or old you are, you can support the children and young people of Cambridgeshire, Norfolk, Suffolk & Peterborough with your prayer! Please also pray for the Ignite Youth Mission Team and all who work with young people in our Diocese.
Below you can find a number of ways to join in this important part of our mission to help children and young people grow closer to Jesus:
Ignite Prayer Network
Why not join the Ignite Prayer Network? The network is made up of people from around the Diocese, and beyond, who regularly pray for the Ignite Team and the young people they work with. Anyone of any age can join, whether they choose to pray for us once a day or once a month! All members and their intentions are remembered at a monthly Mass offered by our chaplain.
Click here to sign up to the Prayer Network!
Next Prayer Network Gathering – Saturday 1 February 2020
A prayer meeting for people of all ages who wish to come and pray for the young people of our Diocese. To be held at the Diocesan Conference Centre, 21 Upgate, Poringland, Norwich, NR14 7SH from 10:30am to 12:30pm, including Holy Mass and concluding with a bring-and-share meal. For more information, email Ciaran on igniteteam@rcdea.org.uk. We'd be grateful if you are able to let us know in advance that you are coming but this is not essential. All welcome, of all ages, including non-Prayer Network members.

Ignite Team Events & Intentions to pray for – Nov 2019 to Jan 2020

               Please also pray for the Big Sleep Out in Norwich, co-organised by the Diocesan Youth Service, for an Ignite Team assembly at Notre Dame Preparatory School and for the children of Gt. Yarmouth, Gorleston and Swaffham parishes. 
Please also pray for children & young people preparing to start going to Confession and Holy Communion and those preparing for Confirmation.
Ignite Prayer for the Youth of the Diocese
This prayer was composed by the Ignite Team to be said around the Diocese for youth and the work of the Ignite Team in their work of evangelisation.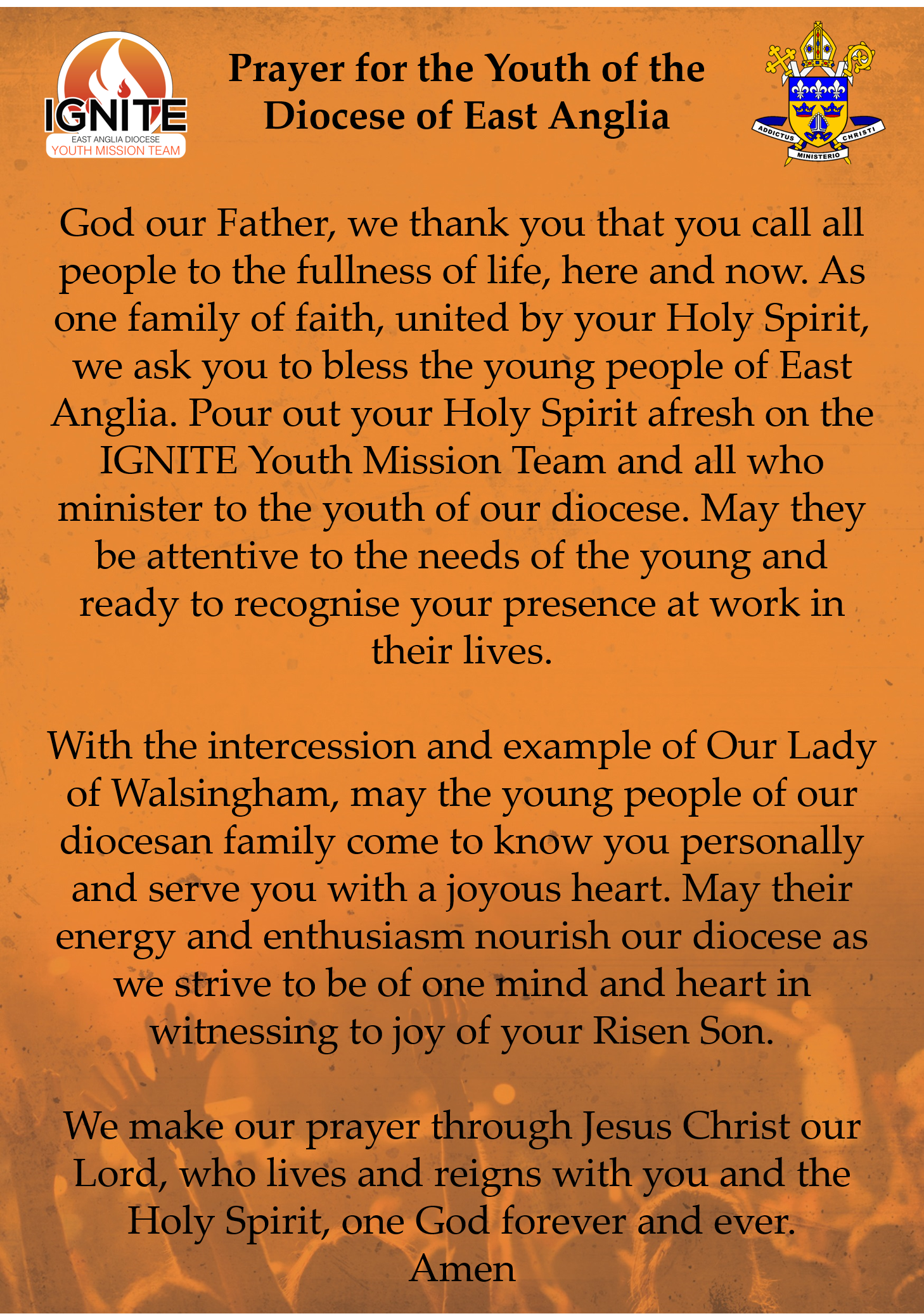 We give out our prayer cards when we visit parishes around the Diocese but if you would like us to send you some please email: igniteteam@rcdea.org.uk.